This is one of those moments when you have nearly finished your next blog post and you suddenly know it is time to post another before it! Fortunately, it is just a very short one and the next serious blog post is on its way! You will be able to access that from my MAIN INDEX PAGE which is linked here or, if that fails by copying the following URL:
https://behindthetimes.home.blog/behind-the-times-index/
But everyone else is going to have had their say if I don't post this now! Given that I saw a pre-release viewing, I am slow off the mark anyway!
This one is necessitated by the release of the film version of John Preston's novel, 'The Dig', loosely based on the events of 1939 at Sutton Hoo, near Woodbridge Suffolk. And it is important to say 'loosely'.
Whether or not it would be ideal, I think that this film is going to become the 'first point of contact' for anyone Googling the events which took place at Sutton Hoo house, so we might as well discuss at this point the differences between the film, book and events which really took place – at least so far as we know them.
By the way, if you think I might be wrong, then it is worth considering that online traffic viewing Room 41 at the British Museum is running at three times usual levels. Furthermore, the Curator's Corner post linked below has had 650,000 views in 3 weeks during a lockdown.
The Dig is a 2021 drama film directed by Australian director, Simon Stone, based on the 2007 novel of the same name by John Preston, which reimagines the events of the 1939 excavation of Sutton Hoo. It stars Carey Mulligan, Ralph Fiennes, Lily James, Johnny Flynn, Ben Chaplin, Ken Stott, Archie Barnes and Monica Dolan. It was released in a limited release on 15 January, 2021, followed by streaming on Netflix on 29 January, 2021. Originally it was intended to be a BBC production and Edith Pretty's role was initially marked for Nicole Kidman.
I'll be blunt and say that it is hardly classic cinema but I rather enjoyed it if only for the subject matter and the tagline 'Nothing Stays Lost Forever'. It is as much about the British establishment's attempt to write out Basil Brown as it is about Raedwald or Eorpwald or whoever was actually buried beneath Mound 1 at Sutton Hoo. And I have my own views on that discussed elsewhere. But it is important to realise that Brown, although amateur, was a serious archaeologist who wanted to bring in the experts. It may have been Edith Pretty who was more reluctant on this front. By the way, they didn't simply try to erase Brown, there is also Edith to consider. She certainly had some unconventional views of her own; she was perhaps rather less conventional than Brown.
The film and the novel are coherent wholes in themselves. So, they don't need to be accurate representations of 1939. But this moment is hugely resonant because with WW2 looming, England needed an identity. I don't want to make this a political blog examining how the British state manipulated the find into an 'English' identity (I think that it did BTW) because I am more interested in some other things. It is important that the film narrative does not cloud or muddy the true events.
With much of the film shot at reconstructed sites near Godalming in Surrey, there are limited amounts of Suffolk in the film – and nothing was actually shot at Sutton Hoo. But some scenes were shot in Aldeburgh, Shingle Street, Boyton Marshes and the possible East Anglian royal capital of Rendlesham.
Carey Mulligan says at the start of the trailer for the film, 'Shall we take a look at them then?' So, we will look at them – the characters! And I am going to commence with her own character, Mrs Edith Pretty. Carey Mulligan is a very strange choice to play Pretty because she is simply 20 years the wrong age. Edith Pretty was 55 in 1939. But then Edith Pretty was rather strange too – a curious product of a particular era. Who was she exactly?
Edith Pretty née Dempster
Land ownership was the critical thing at this point; there was certainly not a great deal of national archaeological co-ordination in the 1930s. It was her land and, after the find, that would become critical. Representatives from the British Museum – and, indeed, others – trod a delicate line in this context.
Edith May Pretty (1883 – 1942) was the English landowner on whose land the Sutton Hoo ship burial was discovered. She had been born in Elland in Calderdale, Yorkshire to Elizabeth (née Brunton, d. 1919) and Robert Dempster (b. 1853). Fiennes accurately describes her as 'Upper Middle Class – perhaps'. She and her older sister, Elizabeth, were the Dempsters' only children and the Dempsters were wealthy industrialists who had amassed their fortune from the manufacture of gas industry equipment.
In 1884 the Dempster family moved to Manchester. But Edith travelled the World, living in Paris for a bit after her time at Rodean – but also visiting India (British Raj as it then was), Egypt and Austro-Hungary.
When WW1 broke out she served as a quartermaster at a Red Cross auxiliary hospital at Winsford and helped house Belgian refugees. By 1917 she was working for the French Red Cross in North East France.
Edith cared for her father when he fell ill. But on a trip to South Africa in 1925 he died. Edith and her sister inherited an estate valued in nominal terms at £500,000. According to the Bank of England's inflation converter, that is a little over £31 million in today's terms. There is no typo there!
Frank Pretty had first proposed to her decades before in around 1901. In 1926 they wed. Frank was already retired at that point. He was the son of William Pretty, an Ipswich corset industrialist. Pretty had been a Major in the Suffolk Regiment 4th (Territorial) Battalion and had been wounded twice during WW1.
Edith gave up the lease on Vale Royal Abbey (in Cheshire and not in Lancashire as the book might easily appear to suggest) after her marriage and moved to the 526 acre Sutton Hoo estate (or Tranmer as it later became known after the name of the family who moved there after the Bartons after Edith Pretty's death) lying above the River Deben, opposite Woodbridge, Suffolk. The mansion had 15 bedrooms and Edith served as a magistrate in Woodbridge.
In the book she is mistaken for Robert's grandmother. That might be because she gave birth to him aged 47. Four years later, Frank died, seemingly from stomach cancer – on his 56th birthday – and Edith became interested in Spiritualism, becoming a major benefactor of Woodbridge Spiritualist Church and also attending a faith healer, WT Parish – for whom she financed a chapel.
In December 1942 at Richmond Upon Thames Hospital, Edith Pretty suffered a stroke from which she failed to recover. Her son also died of cancer aged 57 and – in contrast to the book – he had never returned to Sutton Hoo.
The Spiritualist element is very much underplayed in the film. Edith was probably going to see 'WT' on her weekly trips to London – but this is never explained. Parish operated from East Sheen and was reputedly getting 15,000 letters of correspondence a year after his wife's remarkable recovery.
Nevertheless, the film does still give a nod to this interest. In the film narrative, there is an accident (which also takes place in the book but under different circumstances and which has no historical backing). It is quite cleverly used to hint at Pretty's more esoteric interests, Brown's grandfather's knowledge of soils and, critically, the switch to the excavation of Mound 1. We are spared Brown being sick on the carpet – as in the book's version of events.
Basil Brown (1888 – 1977)
The other major character in the film is undoubtedly, Basil Brown. His role in the discovery was initially downplayed by the establishment but he was a local man who knew about the properties of local soils. Born in Bucklesham, Suffolk, his parents moved to Rickinghall when he was only a few months old and it was to be the place in which he died in 1977. There seems to have been more of an attempt to recreate him as he was – down to the clenched pipe and tucked-in trousers. But the hollowness of the cheeks is a bit harder to replicate!
Despite having left school at aged 12, he amassed a great deal of knowledge. There is a point in the film where it is rumoured that he has taught himself Latin and Norwegian. It might be true – he certainly spent a good of time studying languages.
Nevertheless, there is some doubt as to exactly which languages he had studied and how proficient he was. He certainly did teach himself Latin with some Greek as well. And through a combination of books and radio broadcasts, he also taught himself fluent French, basic German and Spanish. During his weekly stays at Sutton Hoo (to which he cycled across more than half of Suffolk), he kept himself well stocked in books.
What we can say is that, whilst he might have been interested in languages – and, indeed, archaeology – his primary interest was in… astronomy.
In November 1918 – during his brief period with the Suffolk Royal Army Medical Corps – Brown was invited to join the British Astronomical Society.
From 1928 to 1932 he worked on his 'Astronomical Atlases' which was still popular enough to undergo a reprint in 1968. But his financial situation meant that in 1934 he had to allow his membership to lapse.
Brown had married Dorothy 'May' Oldfield, a domestic servant and daughter of a carpenter. The two of them lived on his father's farm but struggled to make a living.
By the mid-1930s, Brown had established himself as quite a local expert in the excavation of Roman potteries in Suffolk. His discovery of the kiln at Wattisfield brought him into contact with Guy Maynard of Ipswich Museum and HA Harris of the Suffolk Institute of Archaeology. It is through these connections that he was ultimately to come to Edith Pretty's knowledge.
The Digs – in the plural
In reality, it should certainly be in the plural. Archaeology is a drawn-out affair. One of the less enthusiastic reviews described the film as 'watching paint dry'. The reality was that you had to watch it dry for a far longer time than the length of any film.
As early as 1937, engaging someone for an excavation was evidently on Mrs Pretty's mind. At the Woodbridge Flower Fete she raised the matter with a representative of the Suffolk Institute of Archaeology (Vincent Redstone). The result of the conversation was that self-taught archaeologist, Basil Brown, was invited to Sutton Hoo.
Anyone who relies on either the film or the book as a sole source of information will miss the fact that Brown did in fact return to work for the Ipswich Museum prior to the discovery of the ship burial in Mound 1. And it was remaining questions regarding a find in Mound 3 which led him to return to Sutton Hoo.
In this Mound 3 investigation, Brown initially found nothing. Correspondence with Maynard persuaded him to work 'off-centre' until he found a 'grave deposit' and then early 'AS period' pottery. These objects appeared to be on a 6 foot wooden tray. But amongst them was a 'Viking axe'. And, in reality it was at this point that Edith Pretty decided that she definitely wanted the other mounds excavating.
Meanwhile, back working for Ipswich Museum on Roman material, the thought of that enigmatic axe plagued Brown. Following discussion with Maynard, he decided that his time might be better spent at Sutton Hoo. And on 8th May 1938 he began the excavation of Mound 1, where he was eventually to find the 27 metre ship burial.
One thing for which there is almost no explanation for the differences between the book and film and reality is remuneration…
How much was Basil Brown really paid?
The film and the book present some incorrect evidence here. For the 1938 dig Brown was paid 30 shillings a week. His Stanton work had been earning him £2 a week.
In the film there is an early dispute about wages with Brown refusing to work for less than £2 a week. There is nothing about disputed wages in the book; Brown happily accepts £1 12s 6d. [In the pre-decimal era there were 20 shillings to the pound to help clarify that.]
He was used to poor pay. Often he had been earning less than the minimum wage for an agricultural worker.
Cecily Margaret Preston (aka Peggy Piggott, 1912 – 1994)
John Preston, the author of the novel upon which the film is based is her nephew – hence the interest for him in the excavations.
Not that she was exactly short of contributions to archaeology other than Sutton Hoo – although many of her most important contributions focus on the Bronze Age, such as Latch Farm (Christchurch) – spanning 60 years of work in the field. She was the first to strike gold at Sutton Hoo – see below.
Without the knowledge of Preston's family heritage, this feels like an unnecessary sub-plot. Admittedly, artistically, it just doesn't work at all. In particular, Fiennes has described the increasingly close relationship between Brown and Pretty as 'not clouded by romance'. The fictional element in the film feels like an excuse to bring some back in. Not that everything is fictional here.
Peggy's interest in Roman coins from childhood mentioned to 'Lomax' in the film is absolutely genuine. Born in Beckenham in 1912, by her 21st birthday she was involved in the excavation of Verulamium / St Albans and then worked with the German archaeologist, Gerhard Bersu – before his internment on the Isle of Man.
In November 1936 she married Stuart Piggott. However, unlike in the film, their relationship actually survived until 1954, with the couple divorcing in 1956.
The following year she married the Sicilian, Luigi Guido (the surname by which she is usually known), a tragic interlude as he descended into psychotic breakdown.
The fact that her first marriage was in 1936 means that the suggestion that they are 'on honeymoon' in the film is a pure fiction.
In later years she returned to visiting Stuart, who had retired to Wantage. And in 1987 the two took shared tenure of the Chair of Wiltshire Archaeological & Natural History Society. 'Peggy' died in Bath in 1994 and her bequest to the National Trust enabled them to acquire the land around Silbury Hill.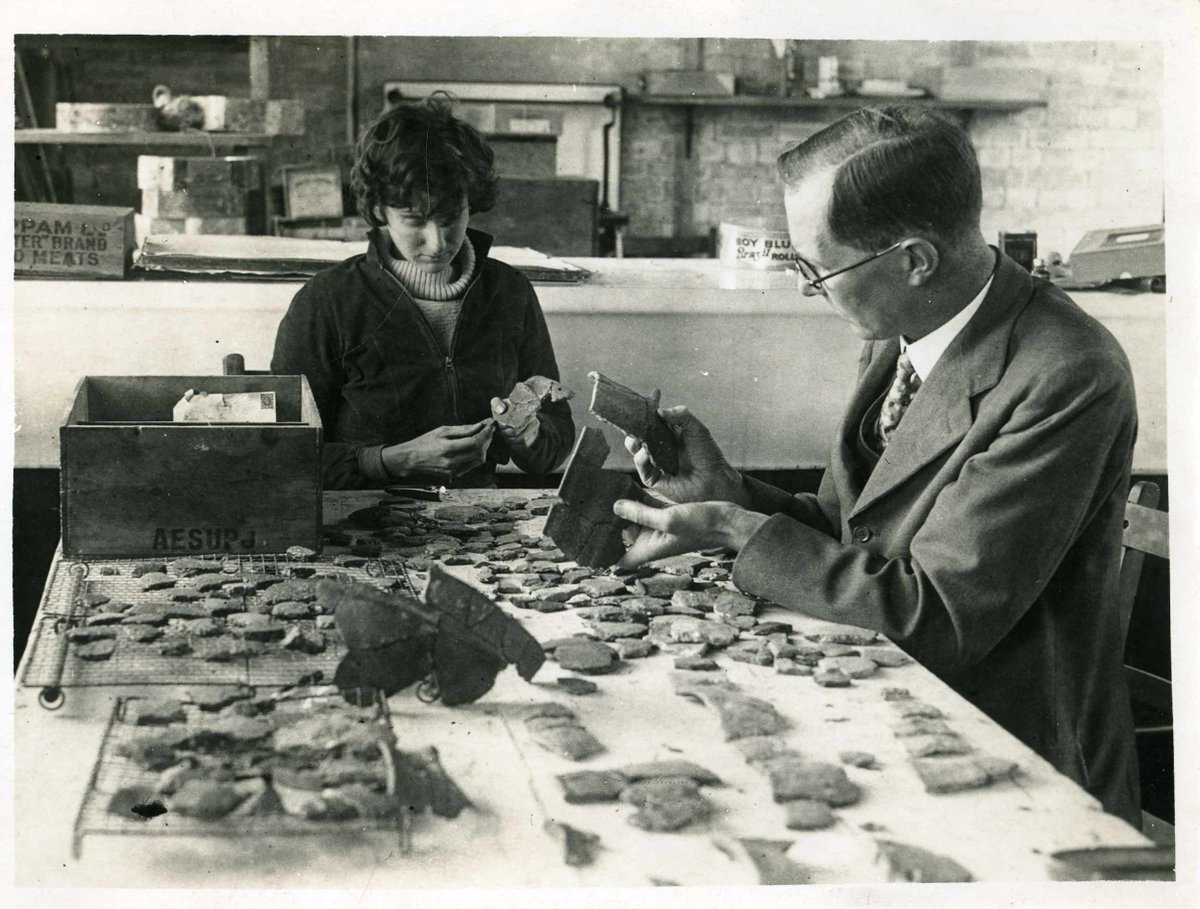 Stuart Piggott (1910 – 1996)
Obviously, Stuart Piggott is another real character, actually best known for his work on prehistoric Wessex – but also for raising the status of Edinburgh University in the archaeology field.
After leaving school, he took up a post at Reading Museum. He was to meet Peggy at Mortimer Wheeler's Institute of Archaeology in London. The two of them were invited to Sutton Hoo by Charles Phillips (see immediately below). After the War, he made Edinburgh University's archaeology department one of international renown.
Charles 'CW' Phillips (1901 – 1985)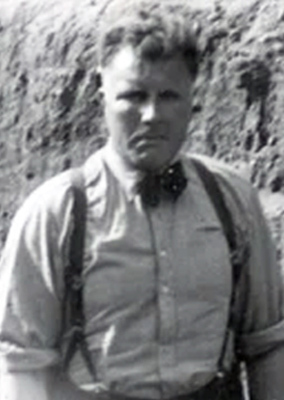 When the professionals were brought in to Sutton Hoo, CW Phillips took over responsibility for the team. But it is rather ironic that, after he left school, Phillips got a diploma in dairy farming and it was only later that he was awarded an exhibition in history by Selwyn College. He was also awarded the Victoria Medal of the Royal Geographical Society in 1967 for his contribution to topography and mapping.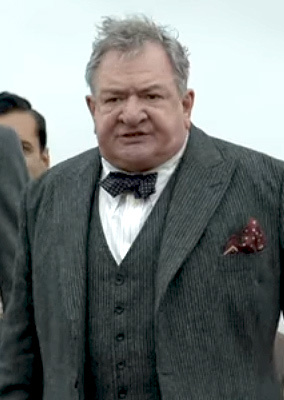 Just as a reaction to his real-life pictures, he seems a rather less likeable character than Ken Stott. That might be completely unfair, of course!
However, although Brown did not always see eye-to-see with Phillips – especially at first – they actually put aside any antagonisms very quickly and Phillips even praised Brown's work.
Lomax and the real photographers
Lomax is supposedly an entirely fictional character (and the narrative is different in the book and the film on top of that). In the film – other than providing the romance which married Brown and upper middle-class Mrs Pretty cannot (and The Guardian critic seems just not to get this, but never mind!), Lomax's main role is as photographer of the excavations.
Actually, the real photographers deserve a mention. Mercie Lack and Barbara Wagstaff produced over 400 images of the excavations. They are actually something unique in the whole history of English pre-War archaeology. Anyone interested in the photographic record of London will probably recognise the names.
Although relatively little seems to be known about their early work, by 1935 they both seem to have been amongst the teaching staff at Putney High School. In the 1930s, they produced glass lantern slides now held by the Museum of London of such importance than several featured in the 2018 'London Nights' exhibition.
The finds
The finds play the most minor of roles in the film. That feels true to history. It is not really surprising – although Edith Pretty decided to give them to the British Museum, they spent most of the War in Aldwych Underground Station.
In particular, the iconic helmet was in pieces. Since the helmet had rusted in the early period after burial, when the chamber roof had caved in, it had shattered into hundreds of tiny pieces. Therefore, a massive reconstruction effort was needed which had to wait until after the War. In the meantime, the helmet had just shifted from one underground location to another!
The first reconstruction was by Herbert Maryon in 1945/46. It stayed on display for two decades and was a centrepiece of the 1951 Festival of Britain. Swedish scholars were amongst the first to criticise the reconstruction. In 1966 an artistic reconstruction was commissioned under the direction of CW Phillips.
Don't click on the link below unless you want to add to the the 650,000 who have watched it since mid-January!
But in the late 1960s Sutton Hoo was re-excavated and new finds included four new helmet pieces which yielded up clues as to how the cheek guards might have worked on hinged plates. The current reconstruction was completed in 1971 by Nigel Williams. Even this is now thought to contain some inaccuracies.
It is the iconic image now and it might have been then too – listen to the brilliant video above about how enclosure changes all the senses. A crown would have meant nothing; a sword and a helmet might have been what mattered.
So, was it more the left-handed sword? Was that what was actually critical?
Or was it this absolutely incredible object …?
"Stone sceptre or whetstone comprising a four-sided stone bar of hard, fine-grained grey stone." [British Museum description.]
Whetstone or sceptre? Who knows?
Peggy Piggott's first discovery
The one artefact you do get a brief glimpse of in the film is Peggy's first discovery. I am pretty sure that it is one of these: gold and garnet pyramids from a sword mount with 110 inlays of garnet, blue glass, millefiori and gold cells made of 20% silver and 77% gold?
The influence of Peter H Emerson on the film?
Emerson's focus was primarily Norfolk (and that might really matter for the Anglian dynasties we might be looking at!) but that might slightly lost on Stone – or simply not matter.
Visually, there is a scene where Fiennes is sitting amongst reeds and a boat passes him. He calls out. There is no logical point to the scene other than to give the landscape some East Anglian context. It could be Suffolk but it immediately recalls the imagery of nineteenth century photographer of the Norfolk Broads, Peter Emerson. Visually, it is the most pleasing part of the film – but that might only be because I really like Emerson's visual creativity and his incredible record of East Anglian life (and, yes, I know it had to be posed).
The inquest
There is a point in the film where Pretty raises the possibility of human remains being found. It remains a fascinating point as all that has ever been found on that front is raised levels of phosphates in the soil.
Those phosphate deposits could imply that the body had simply dissolved in what was effectively an acid bath. Brown responds that there may need to be a coroner's inquiry; "The dead still get that courtesy no matter how long they've lain"…
The War's arrival
Brown recorded in his diary that on 31st August 1939 he filled the ship with bracken. Edith Pretty actually believed that war was not imminent. Sadly, she had less prescience on this than on her archaeological hunches – to the detriment to the whole of Europe (and more).
Because, just a few days later, Neville Chamberlain was on the radio.
Subsequently, tanks would even drive tracks right through Sutton Hoo's mounds in military practice.
The Vendel Era problem
Although the Sutton Hoo burial clearly has some local, incorporated 'British' elements, it is also very reminiscent of other ship burials – but specifically ones in eastern Sweden. From the mounds to the helmets, East Anglia and the Vendel area almost look like mirror images. Which is all rather awkward as that is not quite how things are supposed to be…
Even the word 'Hoo' which is generally considered to mean 'promontory' and even be related to 'heel', could be telling. See Ottarshögen above – is it really 'howe'?